Mobile Apps with Flutter
our specialization in Flutter application development, empowering businesses to create high-performance, visually appealing, and feature-rich mobile applications for both iOS and Android platforms. Our team of skilled Flutter developers is passionate about building innovative solutions that meet your specific requirements.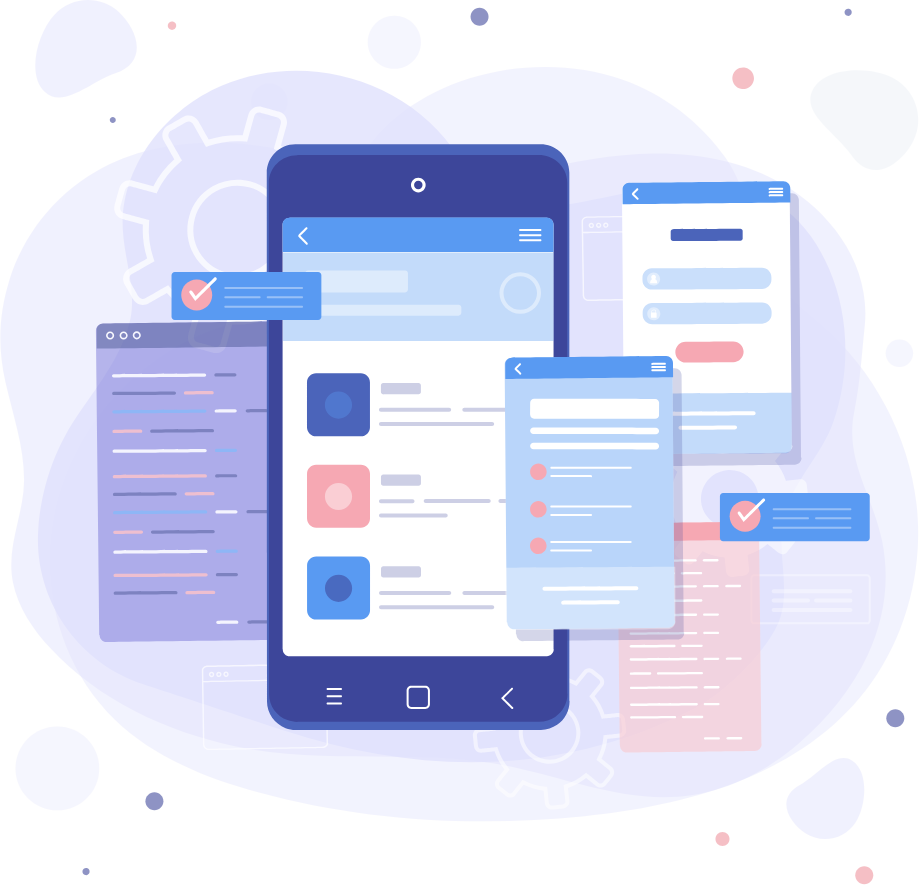 What we provide
Why Choose Flutter for Mobile App Development?
Flutter allows you to write a single codebase that can be used to develop apps for both iOS and Android platforms. This significantly reduces development time and costs as you don't need separate teams for each platform. With Flutter, you can reach a wider audience and ensure consistent user experiences across different devices.
Flutter's reactive framework enables the development of stunning user interfaces. The Flutter framework comes with a rich set of customizable UI widgets, allowing us to create visually appealing and intuitive app designs. With Flutter's "hot reload" feature, we can instantly see changes made to the code, making the UI development process faster and more efficient.

Flutter uses a compiled programming language called Dart, which enables native performance on both iOS and Android platforms. This means that Flutter apps are fast, responsive, and provide a smooth user experience. Flutter also leverages the GPU (Graphics Processing Unit) for rendering, resulting in visually impressive and fluid animations.
What we provide
Our Flutter Application Development Services
We specialize in building fully customized Flutter applications tailored to your unique business needs. Our experienced team of Flutter developers works closely with you to understand your requirements, design an intuitive user interface, and develop a scalable and secure app that aligns with your goals.

Our talented designers create visually appealing and user-friendly interfaces that enhance the overall user experience. We focus on designing intuitive navigation, seamless interactions, and engaging visuals to create a delightful app interface.

We follow rigorous testing methodologies to ensure that your Flutter app functions flawlessly on different devices and screen sizes. Our quality assurance team conducts comprehensive testing to identify and fix any bugs or performance issues, ensuring a smooth and error-free user experience.

We provide ongoing maintenance and support services to ensure your Flutter app remains up-to-date, secure, and compatible with the latest operating system versions. Our team is ready to assist you with any enhancements, bug fixes, or updates required post-launch.
What we provide
Why Choose VR Web Consulting?
Our team of Flutter developers has in-depth knowledge and extensive experience in developing mobile applications using Flutter. We stay updated with the latest Flutter trends and best practices to deliver cutting-edge solutions.
We believe in transparent and open communication throughout the project. We collaborate closely with you, involving you in the decision-making process and providing regular updates on the progress of your app.
We are committed to delivering high-quality Flutter applications on time and within budget. Our development process follows industry best practices, ensuring that your app is reliable, secure, and performs optimally.
Our top priority is your satisfaction. We strive to build long-term partnerships by delivering exceptional Flutter applications and providing excellent customer service. Your success is our success.
Ready to Transform Your App Idea into Reality?
Contact us today to discuss your mobile app requirements and explore how our Flutter application development services can help you achieve your goals. Let's create an app that stands out in the competitive mobile landscape and engages your target audience effectively.